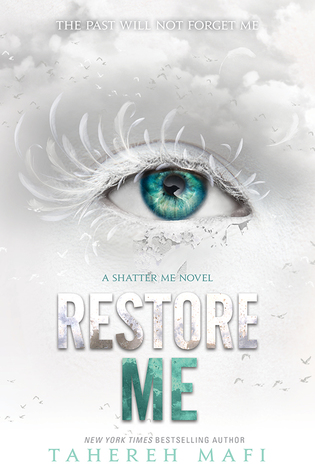 Tahereh Mafi wrote the book I didn't know I needed.
Yes, I said needed.
It's been four years since I finished the Shatter Me trilogy, and when I heard that Mafi was expanding Juliette's story I was nervous for a lot of reasons. The biggest one being I wasn't sure if turning this trilogy into a series would detract from the incredible story that started it all.
I .Was. Wrong.
"Steam fills the room in slow, careful exhalations that cloud my reflections and eventually, I'm forced to look away. But when I do, I'm smiling.
Because for the first time in my life, I actually like the way I look."
At the end of Ignite Me I was left feeling like Juliette was starting to really blossom into the woman she will become, but in Restore Me Juliette is a bad ass bitch—with the occasional frustrated cry in her room. I love her. And when she changes her hair! At first I was taken aback, but then my heart was fluttering with pride as she looked at herself in the mirror.
The romance. The epic love triangle is no more, but her relationship with Aaron kept me up reading late into the night. Aaron… ugh. It took me some time to trust his character, and when I did I think I fell in love with him too. With that said, he's got the emotional intelligence of a small child and sometimes I wanted to smack him upside the head (Kenji took care of that for me, though *swoon*). Juliette and Aaron have some serious shit to work through…if they ever get the chance.
ALSO—biological parent drama, mass killings, talented allies in unexpected places, bad-ass women lifting each other up, and bad-ass women not taking shit from anyone. This book had everything.
" 'They're coming to kill everyone in Sector 45. I don't think I have a choice.'
'What do you mean?'
I look up. 'I mean I'm pretty sure I'll have to kill them first.' "
This story definitely isn't over yet.
Restore Me
is brave, uplifting, and packed with ass-kicking females, and I'm
so
ready for the next two books.